Jabes and Fleetaccess
The most beautiful wheelchair van in the Netherlands. That is how I present my Mercedes V-Class on my social media. A bit funny perhaps, but the fact is that it really is a very beautiful and luxurious vehicle. The crooks and the insurance company know that too. So then such a bus must be well insured and protected with an alarm. That's where Jabes and Fleetaccess came in.
Lorry
The insurance company also required a good alarm system. Through my intermediary from Jabes Insurance, I insured my Mercedes-Benz V-Class with Ansvar Idea. That proces didn't go as easy as expected. The description of my registration certificate also stated that my van would be a lorry. Oh well, the red colossus is big and heavy with its weigth of 2500 kg. But calling my Mercedes-Benz V-Class a lorry is going a bit exaggerated. It was an error by the RDW [The 'RDW' is the Dutch National Highway Traffic Safety Administration], which sometimes occurs with these types of vehicles. However, the insurer took that body description as truth, while it is only an added addition to the vehicle category. The vehicle category should be leading when registering a vehicle. And that was registrated correct.
Mediation by Jabes Insurance
Nevertheless, the insurer initially decided not to insure my V-Class because of that confusing description. Fortunately, I was able to convince my intermediary who then mediated with Ansvar Idea to arrange the insurance package. There is a Dutch article about that experience on the website of 'Jabes Verzekeringen'. Hilko, director at Jabes, put it this way: "Ah, things will go normally at the Stoové family." Given the young age and the high commercial value, it goes without saying that I have insured the car 'All Risk'. Normally you have to insure the accessories, such as the adjustments for my handicap, extra. In my case, however, that was not necessary. The driving aids, such as the handcontrols and the hoists for my wheelchair have been reimbursed from the UWV [The UWV is the Dutch social service which helps people with aids and benefits to help being able to work within their possibilities]. And the UWV takes on that risk itself.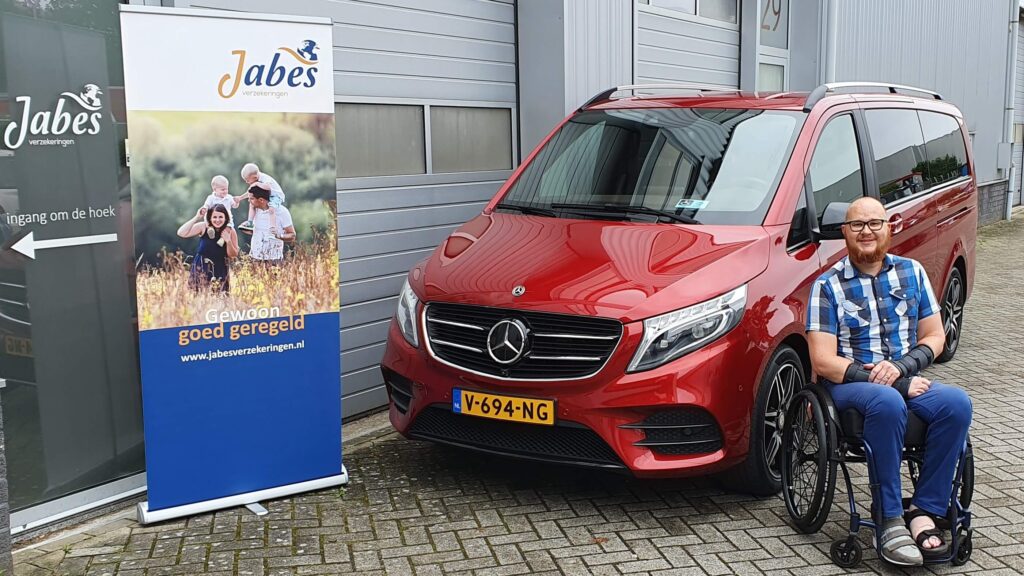 Usual requirements
My Mercedes-Benz V-Class dates from 2018, so it was a second hand when I purchased it in 2021. How the previous owner managed to insure the van remains a mystery. After all, no insurer wanted to issue a insurance policy without the alarm being upgraded and expanded with a beacon transmitter. These are the usual requirements in The of an insurer in The Netherlands for vehicles above a certain new value. So there was still some work to be done. Because until I had an SCM certified alarm with inclination detection and a beacon transmitter installed, Ansvar Idea didn't cover burglary and theft. Of course I didn't dare to take that risk, because I can't just buy a new van again.
Not even getting a hundred yards away
Above all, it gives a safe feeling that the car is well secured when I go into the city with my lovely wife for shopping. And if a scoundrel steals the car, we can hopefully track down the location of the V-Class with the beacon transmitter. But on the other hand, I wonder how surprised such a rascal must look when he breaks open the car and looks at all kinds of levers and buttons of the adapted driving aids. I don't think he or she even gets a hundred yards away. In that respect, a for a disability adapted car is good security in itself.

Clifford Cobra alarm system
For the most beautiful wheelchair van in the Netherlands, I naturally wanted the best at the best possible price. That is how I ended up at Fleetaccess. The alarm systems of this company, based in a Dutch town called Nuenen, can be as extensive as you want. Due to the strict insurance requirements, I had little choice. An SCM alarm class 3 with angle of inclination detection and a beacon transmitter was required by the insurer as a minimum. The choice mainly consisted of an original Mercedes-Benz alarm or the Clifford system. The first cost almost double the price of a Clifford Cobra alarm system. And since my wallet has practically been vacuumed after the purchase of the van and the imminent wheelchair accessible renovation of our house, I decided not to go for the Mercedes-Benz system. The only drawback of the Clifford Cobra alarm system is that an extra hand transmitter is needed. So you have two remote controls on your key ring.
Keyless
What it means is that I have to press an extra button when opening the car. But that is a small effort for a safely locked V-Class. You can unlock the car with a button on the original key. Deactivating the alarm and the immobilizer is then done with the extra remote control. By the way, when the car is locked, the alarm system is activated automatically. That makes it less complicated. Unfortunately, but understandably, Fleetaccess was unable to share everything about the software part of the installation process. After all, installing the data of the alarm system and the associated codes should not be made public. Thanks to digitization, the profession of theft is already gaining momentum, as this video by Schmee150 shows about the danger of keyless entry and keyless start. Fleetaccess also has a solution for this, thanks to the Keyless Protector.

Fleetaccess installation locations
So what can be said about the installation? Well, it looks shocking when your (for me) expensive and new car is partly disassembled. But of course the mechanic did it carefully and without causing any damage. Among other things, the dashboard had to be partly removed of my V-Class. So the navigation screen, the carbon look covers, glove compartment, etc were all spread out on the workbench. An extremely clean workbench by the way, just like the entire Fleetaccess workshop looks almost clinically neat. If a cliënt wishes, Fleetaccess also builds in their alarm systems on various installation stations throughout The Netherlands. If you have a spacious garage or shed where the mechanic can work under a roof, Fleetaccess is also happy to come there. However, I chose to drive to their main office, so that I could take some nice photos for this blog.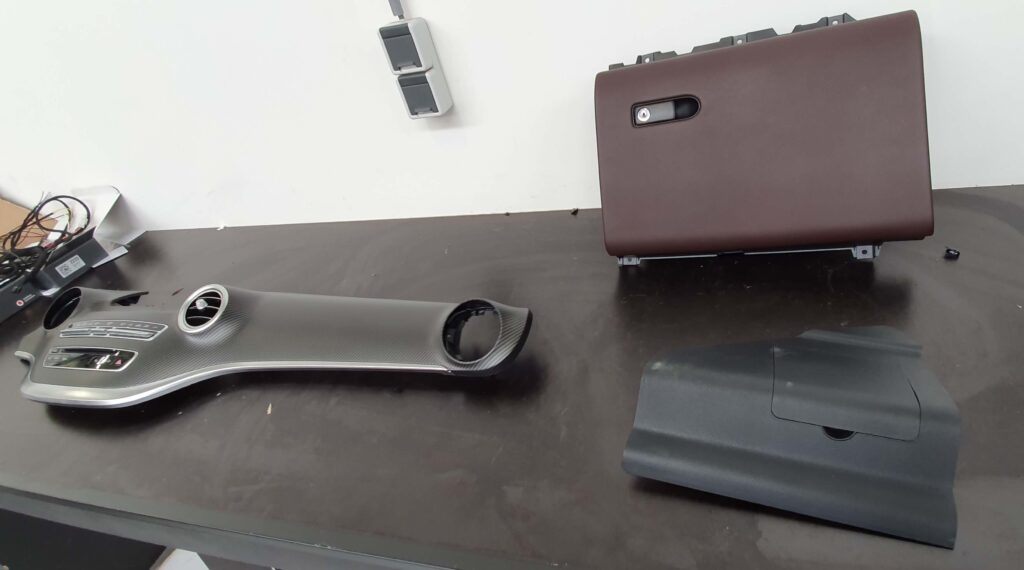 Sensors of the alarm system
Some other parts of my wheelchair van where also removed to create space to hide elements of the alarm system. For example the sensors for the angle of inclination and sensors to detect movements and shocks. When those sensors are activated, a loud siren is activated, which is hidden under the hood. Because of the extremely good sondinsulation of a V-Class (it's one of the reasons why the vehicle weighs around 2500 kg) that siren had to be programmed to a maximum. Otherwise, the thieves wouldn't be scared off after all.
The alarm system is almost invisible
So you don't see much of the alarm itself. Under the hood, the siren mounted against the fuse box betrays the presence of an alarm. I had to look twice before I realized exactly where that sound-producing device was. You will also see a tiny round button with a flashing red LED on the center console. Smaller than an inch in diameter, but clear enough to let you know when the alarm is enebled or not. And that actually illustrates the most important characteristics of the alarm system. It are those invisible aspects that provide the greatest safety. Because via Clifford the alarm has a connection with a control room. This is done via a kind of telephone subscription that costs about ten euros per month. In the event of theft or burglary, the control room can trace my V-Class again by means of the built-in beacon transmitter and notify me.
Vehicle tracking system or beacon transmitter
GPS or radio waves
Incidentally, there is still an essential difference between a vehicle tracking system and a retrieval system using a beacon transmitter. A standard vehicle tracking system uses GPS (Global Positioning System), while a beacon uses radio waves. The advantage of radio waves is that they usually also work when a vehicle is in a closed space. For example in shipping containers or in the back of a lorry. The transmitters are also more difficult to trace and therefore more difficult to remove. Another advantage is the power supply. Beacon transmitters do not have to be (fully) connected to the car battery, but have their own battery.
Kiwa SCM certificate with a Fleetaccess alarm
It is therefore not surprising that insurers nowadays more often ask for a beacon transmitter for expensive and exclusive cars instead of just a standard vehicle tracking system. In addition, they often set the additional requirement that the entire alarm system has a Kiwa SCM quality mark. Roughly speaking, they can be divided into five alarm classes. Of these, SCM Class 1 actually only includes an immobilizer and SCM Class 4 and 5 concern the alarm systems with vehicle tracking systems or beacon transmitters. The higher the SCM alarm class, the more extensive the alarm. You can read more about this on the Fleetaccess website. You will receive a certificate upon installation and after registration at the control room. This immediately serves as proof to your insurance company that you have met the requirements of your insurance.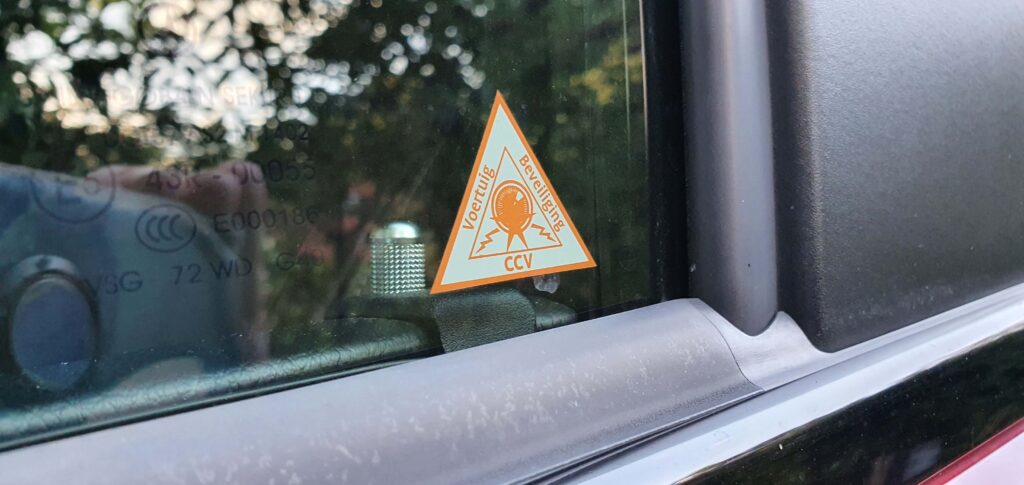 Prevention
However, it is still important to make it as difficult as possible for criminals to get into your car as a preventive measure. The most logical step concerns not leaving (valuable) items lying around in plain sight. And I also prefer to park in guarded parking garages or where cameras are pointed at my vehicle. Fortunately, with a height of just under two meters, my van fits in most parking garages. There are also additional measures such as a dashcam. I also hope that the stickers on the side windows will have a preventive effect, which indicate that there is a sound alarm system. Now let's hope I never need it!
#Wheelchairvantastic and @Wheelchair_VClass on Instagram
Most beautiful wheelchair van in the Netherlands!
In addition to my personal RaGaSto Instagram account, which is linked to my website, I have created an extra Instagram account especially for my 'most beautiful wheelchair van in the Netherlands'. It's called 'Wheelchairvantastic'. You can find that account under the name @wheelchair_vclass, under #wheelchairvantastic or by clicking here. The name is of course a contraction of the words 'wheelchair', 'van' and 'fantastic'. The freedom I experience from such a vehicle and the luxury of this specific V-Class Avantgarde with AMG-Line and Night Package is indescribable. Through my #wheelchairvantastic account I like to show my followers what adventures I experience with my wheelchair van.
Like and follow
In any case, I post several photos of the hyacinth red van every week; sometimes they're about my visits to certain locations, sometimes about details and sometimes about upgrades and modifications. Every now and then there are also videos, such as reels and IGTV (Instagram Television). I make those when I want to show something even more clearly than in a photo. I also have plans for the Mercedes-Benz V-Class to actually make it the 'most beautiful wheelchair van in the Netherlands'. For example, there will probably be elements of a simple camper and hopefully also upgrades of a VIP shuttle built in. In that regard, the Instagram account is well worth following, as evidenced by the high level of engagement. I would consider it an honor, and 'wheelchairvantastic', to welcome you there: like and follow!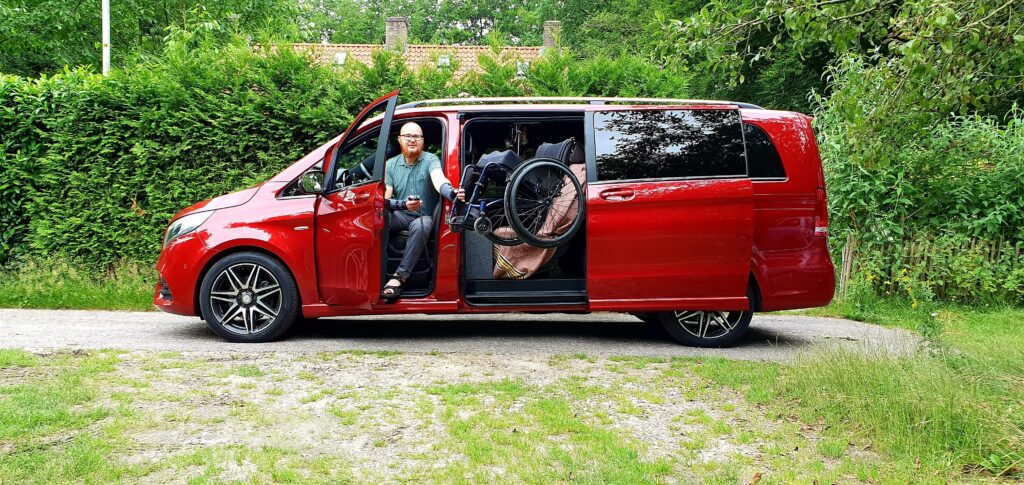 I have previously written an article about having to wait extra long for the installation of my custom driving aids, such as the handcontrols and wheelchair hoist [click here]. Unfortunately, that article is currently only available in Dutch. But there are nice photos and a movie in it that are worth watching anyway.